Citizenship Seminar, by Aziz Samih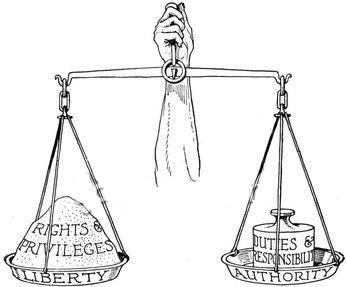 Citizenship - a fair exchange!
1. Definition
According to the American Heritage Dictionary,
citizenship is defined as "the status of a citizen with its attendant duties, rights and privileges."
It is clear that the relationship between state and individual is akin to a transaction, i.e, an exchange of duties for
rights. In short, it is a form of partnership where one party undertakes to fulfill certain obligations in exchange for legitimate rights and privileges. Like all kinds of agreements or contracts, in order for the signatories/parties
to honour their obligations, they need reassurance and incentives.
Moroccans abroad are no exception. For this fast-growing section of society to participate fully and engage in a more meaningful way, the following prerequisites should be met:
Moroccans abroad should feel:
• a sense of pride,
• a sense of belonging,
• a sense of ownership,
• a sense of acceptance,
• valued and appreciated as individuals,
• feel free to criticize and question aspects that require reform and urgent attention.
Ironically, we have come to expect the above in our countries of residence rather than our country of origin. You would, no doubt, agree with me that there is nothing worse than feeling a stranger amongst your own kind. Unfortunately, it seems that this is a feeling often felt by a number of Moroccan expatriates when they return to Morocco or when they come in contact with some representatives of the Moroccan authorities abroad.
Society is a kind of partnership. For a partnership to function successfully all stakeholders should feel a sense of
ownership and belonging, otherwise, indifference and self-interest will set in.
2. Common Grievances of Moroccans in Britain:
Unfortunately, the experience of most Moroccan expatriates I have interviewed and consulted in preparation for this report is that of frustration and, at times, resignation and despair. The following are amongst the grievances commonly expressed by a large section of our community across the generations:
They generally feel:
•misrepresented,
• used and abused,
• taken for granted,
• frustrated and powerless,
• disillusioned and disenchanted,
• discriminated against and treated like second class citizens in a country that is supposed to be home.
Incidentally, some of these are feelings shared with a large section of our compatriots in Morocco.
3. Consequences:
As a result of years of indifference and dereliction of duty on the part of some of those concerned, a significant
number of members of the Moroccan community in Britain have chosen to react in ways that, although may seem different, are equally damaging to the long-term interest of both citizen and state.
There are those who found themselves forced to renegotiate their expectations and ended up limiting their relationship with Morocco to the usual family visits and the occasional visit to popular holiday destinations.
Worse still, a growing section has adopted, rather reluctantly, an indifferent stance and sought to distance itself from the community and by implication from the country of origin.
Equally worrying is that the very occasions that are supposed to bring people together, e.g. Independence Day - which could foster a sense of belonging and togetherness - are another missed opportunity. It is on occasions like these that those in charge should engage the community, young and old, and celebrate a common cause and help instil in our off-springs a sense of identity and introduce them to their country of origin in ways that are more meaningful and more appealing.
4. Misconceptions about Moroccans abroad:
It is undeniable that a large section of Moroccans regard their compatriots abroad with mixed feelings; there are even those, namely some of those in positions of authority, who regard them with disdain and contempt.
I have often heard people describe Moroccans abroad in terms that tend to fall in two categories, sympathy or insult such as, a displaced and alienated lot, homesick, arrogant, ostentatious, ill-educated, gullible ,etc… While some of these descriptions might be applicable in some cases, they do not constitute the rule.
These views are clearly outdated as the Moroccan "diaspora" is well into its fifth decade, in some cases, and things have naturally evolved. I have met high-achievers who are well-settled and feel frustrated at the sorry state of affairs in their country of origin and the fragmented nature of their communities and the lack of co-ordination between some of those in authority and the community.
5. Dual Nationality Re-examined:
So much has been written about the growing phenomenon of dual nationality, especially in relation to nationals who come from countries that stand for different cultural and religious values. This gained momentum after 11 September 2001. As a case in point, Moroccan expatriates, especially the young, are seen by some as torn between two extremes and are regarded with suspicion and, at times, seen as social misfits.
This view is not only inaccurate but very damaging to all concerned. While some migrants might have struggled with adjusting to the culture of their country of residence, especially during the early years of settlement, the majority are well-settled and find the experience very enriching and liberating.
We have come to see ourselves as the missing link, the unifying force, the long awaited bridge that can be trusted by both sides of the pond. As we have come to know both cultures intimately, we have transcended the customary fear of the unknown and are, therefore, equally at home in both countries.
However, our experience in our country of origin could be made more gratifying by the removal of the artificial barriers placed in our way through unnecessary bureaucracy and rife corruption.
6. The bond between 2nd and 3rd generation Moroccans and their country of origin - a precarious
link
.
The Moroccan "diaspora" just like our country of origin is a wealth of untapped resources. It is a community that desires the best for its beloved country if only some of those in charge could be a bit more perceptive and put the collective good first before personal gain.
Over the decades, the Moroccan "diaspora" has grown significantly and, as a consequence, its challenges and aspirations have witnessed a significant growth. Hence the need to change the rules of engagement and do away with the old way of doing business just as Morocco is in the process of reforming.
Ideally, second and third generation Moroccans should be equally at home in both countries and in both cultures and should show allegiance to both. However, given the limited investment on the part of Morocco culturally and educationally, especially during the formative years of these children, it becomes unrealistic, if not inconceivable, to expect these children to feel Moroccan in any meaningful way.
The alienation felt by this age group in relation to what is supposed to be home is exacerbated by the failure of existing cultural and educational provisions to meet their expectations. Firstly, there is a lack of investment in the teaching of Arabic, both standard and Moroccan, and Islamic culture in a way that would enthuse our youth and nurture a love and passion for their parents' culture.
Equally inadequate are the so-called "music concerts" or "cultural events" that tend to reinforce stereotypes and fail to inspire our youth and usually present Morocco in a negative light.
Of most concern, is the failure of the Moroccan media, notably, T.V to appeal to 2nd and 3rd generation Moroccans as they usually display symptoms of an identity crisis themselves and lack good communication skills and a sense of direction. Some T.V presenters are notorious for code-switching between Arabic and French and vice versa.
A recent phenomenon is the tendency of some misguided Moroccans to affect accents and dialects of other Arab countries whose nationals would love to call Morocco home.
It is worth remembering, therefore, that the bond between 2nd and 3rd generation Moroccans and their country of origin is as precarious as a flickering candle on a windy night that requires our immediate attention; failing that will eventually and inevitably result in its extinguishing. So let's take the necessary action and keep this glimmer of hope alive. Let's not be complacent.
7. Being Moroccan (affinity and alienation with equal intensity):
Naturally, Moroccans should feel at home in Morocco. Unfortunately, this is not the experience of most Moroccan
expatriates, namely, those who belong to the second and third generation. We are constantly reminded that things haven't changed after all.
It starts at the check-in at the airport when check-in staff, bizarrely, insist on addressing you in French. On landing, you are struck by the lethargic pace of passport control officers who are in the habit of indulging in futile small talk with their colleagues and make do with one desk or two when at least five or six are required, oblivious to the hapless travellers.
Taxi drivers are, by far, the epitome of all that is wrong with Morocco. Fares are treated like cargo that can be carried in any position and any quantity and at a fare they see fit. On one occasion, I took a taxi whose driver felt the need to stick a glossy cut-out that read "Don't forget to mention Allah." above the radio and conveniently forgot to operate the meter. So much for remembering Allah!
Incidentally, in April 07 at Fes Airport I was reprimanded by a female customs officer for filling in the landing card in Arabic. When she realized that I wasn't going to refill it in French, as she was hoping, she reminded me - in no uncertain terms - that I should fill it in French next time.
In a desperate attempt to justify the unjustifiable a female colleague intervened stating that they didn't have the
Arabic software. How lamentable is that in a country where Arabic is constitutionally the official language!
Most appalling is the unprofessional conduct of some customs officers who resort to tactics ranging from bullying and intimidation to begging and subservience in exchange for a backhander. My compatriots abroad find this behaviour an affront to the image and sovereignty of our beloved country as these officers wear a uniform that carries our national emblem: "Allah, the Nation and the King."
While some first generation Moroccans, who had to endure all forms of abuse in the past, might have become accustomed to turning a blind eye, second and third generation Moroccans are not willing, and rightly so, to put up with this demeaning and insulting behaviour. Consequently, more and more of them are refusing to visit Morocco, let alone invest in it and contribute to its development. What a loss!
The above unfortunate experiences, among many others, have understandably discouraged a large section of our community from fostering any strong links with Morocco.
8. Recommendations:
The Moroccan community calls upon all those concerned to consider the following as a matter of urgency:
• Implement our government's recommendations in relation to citizenship.
• Engage the Moroccan diaspora in a more meaningful and productive manner.
• Accommodate the various needs, aspirations and expectations of the various age groups and sections of the Moroccan "diaspora" and acknowledge that the latter is not homogeneous in its needs.
• Devise new cultural and educational programmes befitting the position and reputation of Morocco.
• Encourage Moroccans abroad to play a more important role in their countries of residence as ambassadors of their country of origin.
• Set up fast, efficient and independent bodies to deal with our grievances.
• Retrain civil servants and other service providers in order to ensure a professional service that lives up to our
government's expectations and that does our great nation justice.
9. Conclusion:
The above article was written out a genuine concern for Morocco by a person who is full of hope and love for his
birth-place and feels, therefore, duty-bound to voice these concerns in a transparent and constructive manner rejecting cynicism, resignation and defeatism.
This is a sober reflection on the sorry state of affairs in my beloved country whose potential and resources remain under-used and a community that deserves recognition, an invitation to participate and worthy representation not tokenism or the occasional academic research that is soon to be consigned to research archives.
Let the appointment of
Her Highness Princess Cherifa Lalla Joumalla El Alaoui
, as the new Moroccan ambassador in the UK, be a turning point, let this be a new beginning, let this be the end to false dawns and tokenism, let this be the end to cynicism, inaction and self-doubt.
Let's not see ourselves as torn between two extremes. Let's remind ourselves that we are the critical voice, the full picture, the harmonizing agent that would bring the so-called "two extremes" together.
Aziz SamihFirst published as a contribution to a conference on citizenship in Rabat on Friday 1 June 2007.