Old Habits Die Hard!
Marrakech Menara Airport
In our endeavour to contribute to the development of our beloved country, we have investigated the situation of
taxis from Marrakech airport to the city centre.
Despite the initiative taken by the airport authorities in Marrakech to make taxi fares more transparent, there seems to be a lot of resistance to embrace reform and move our beloved country forward.
Anyone who has flown to Marrakech airport would no doubt have been taken for the proverbial ride by the notorious taxi drivers outside the airport.
As a community forum, we feel duty-bound to expose these crooks and help fight this wide-spread illegal practice.
On arrival, as you come out of the airport, you will find a taxi rank, both small taxi, usually a Peugeot 205 and big, most likely to be a Mercedes 240. There will also be taxi rank attendants whose actual role is far from attending to our needs. They are no more than touts whose job is to milk unsuspecting travellers.
Like most taxi drivers in Morocco, they even have the audacity to decide which part of town they go to, when their licence clearly states that they are required to take fares anywhere in the city and it is the passenger that chooses the destination not the taxi driver.
Worse still, they tend to favour people who are travelling alone and shove them in with two strangers, and at times five if it is a large taxi; total strangers who may not necessarily share the same destination.
This way, they rip off at least three passengers not just one; earning usually up to 360 dhs for a trip that would
take between 10 and 15 minutes, charging slightly more than a London cabby.
The extent of extortion becomes clearer when you check the official tariff which is duly displayed outside the newly extended airport's exit, literally a few steps from the taxi rank, talk of day light robbery.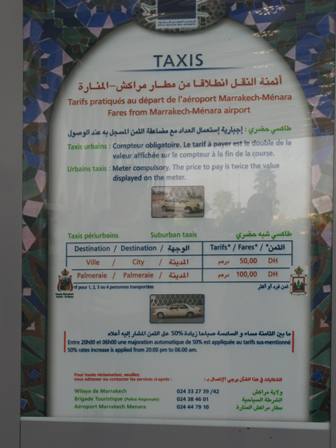 For those travelling either to the train station in Gueliz, the coach station in Baba Doukala or further afield, there is a special shuttle bus, worthy of a first class airport, at the back of the taxi queue that costs 20 dhs for a single trip and 30dhs return.
Information about the Shuttle Bus:Terminal 1Arrival:Time Table:
starting at 06.40 hrs until 23.40 hrs.
Departure: Time Table:
starting at 06.00 hrs until 00.25hrs.
Going to:
Gueliz Train Station, Baba Doukkala Coach Station, Jemaa EL Fna, Hivernage.
Next time you need to take a taxi from Marrakech airport, make a note of the following useful facts:
Small Taxi:
(seating up to three passengers)
Big Taxi:
(seating up to six passengers)
Please note that taxi drivers do not have the right to negotiate the fare nor the destination as long as it is within
the city. If anyone tries to intimidate you, the police are usually at hand. They are there to help. It is your right,
exercise it and don't be afraid; they are just a bunch of opportunistic cowards.
Together we can help our beloved country move forward and make our trips more enjoyable.
Remember that rights are taken not given, especially when you are dealing with taxi drivers in Morocco.
If you fly to a different airport, our cause and that of our country would be better served if you could find
out about the actual costs of taxi fares, with pictures of any public notices and share it with us.