The Sahara DisputeWhen sibling rivalry goes too far!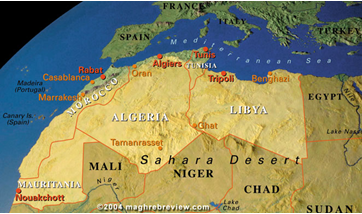 A long-awaited family reunion!
In our endeavour to contribute to better community relations in view of the increasing number of Algerians choosing to socialise and shop in North Kensington, with some of them moving to the area, otherwise known as little Morocco; Lhadra3lik has decided to dedicate an article to what is undeniably a thorny issue and has, for so long, been a sore point in Moroccan Algerian relations.
However, unlike disputes that are fuelled or exacerbated by religion, race or ethnicity, and can prove intractable; anyone who has been to North Kensington in London cannot fail to notice the ease with which Moroccans and Algerians interact.
Our situation, it seems, is akin to sibling rivalry, it is a mixture of admiration and envy verging on jealousy and resentment, at times, which can be traced to years of misinformation and misunderstanding. Staying with the analogy, which gets stronger when one considers the shared history, geography, culture, language and religion amongst many aspects of our shared heritage; we have every reason to be united.
Unfortunately, some intransigent elements have decided to ignore all of this in pursuit of their own selfish gains. It fills me with anger and grief when I see the rapid expansion the European Union has witnessed over the years, with more potential for growth, transcending all kinds of barriers, linguistic, cultural, ethnic and, at times, religious driven by a common goal i.e. prosperity for all. If only those, Algerian brothers, who have conveniently ignited what is clearly a red herring could invoke reason and put the common good first.
To those who think that our differences are irreconcilable, I would invite them to join us for a chat over a glass of mint tea on Golborne Road.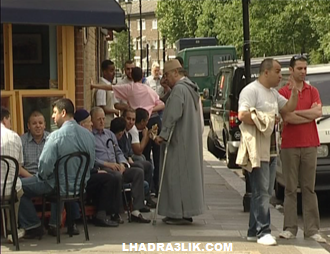 Moroccans and Algerians socialising in North Kensington, London
Insane amounts of money are being squandered by our neighbours in defence of an argument that is no longer sustainable given the increasing awareness of the truth of the matter; i.e. a united Morocco is a prosperous and stable Maghreb. It is rather reassuring to see an increasing number of well-informed Algerian brothers calling for a rethink as the need to sustain hostility towards Morocco.
This is not an attack against our Algerian brothers; far from it, it is more of a call for a long-awaited family reunion. Call me a dreamer, but I am confident that this family reunion has the potential to reverse the migratory trend. Our region has all the necessary ingredients for economic growth and prosperity at a time when Europe is seeing economic stagnation.
The name is already there, it is called
Al Maghreb
. Let us be a happy family.